Swim Spas
Marquis Swim Spas in Bloomingdale, Elmhurst & Wheaton
Our patent pending Aquatic Training Vessels (ATV™s) elevate your swim spa experience and are personal workout and health products for your daily life. In an ATV™, swim strokes, leg kicks, resistance movements, and low-impact range of motion exercises are all options for your active efforts and healthy life. They can also just be a place to kick back and float away stress or laugh and play with the kids. An ATV™ is a true action vessel for your whole family to enjoy all year-round.
The innovative bowed sidelines to the ATV™ are more stylized than a typical swim spa box of water. They allow for a more spacious swim and workout space than comparable rectangular swim spas. Whether your body position is horizontal while swimming, vertical during aerobic exercise, or seated in resistance/strength workouts, the vessel area accommodates greater space for mobility and workout freedom without kicking or banging into walls. The true four foot (122 cm) water depth allows for a more extensive full torso range of exercises when immersed in the water. The open, level floor area is lightly textured for more stable footing during aerobic workouts.
The ATV™-14 is 14 feet of aquatic activity and enjoyment! Designed to fit into a relatively smaller area, the ATV™-14 doesn't skimp on features or benefits. With a true four foot of water depth you can stand up submerged in water and exercise away! Plus even tall, lanky swimmers will get the workout they desire with ample height and wingspan area. Butterfly, breast stroke or freestyle your way to fitness! Plus the ATV™-14 will look great in your space. The synthetic wood exterior is the best in the industry and the optional matching exterior steps will create a beautiful focal point in your yard. The ATV™-14 is available in two configurations: The Splash and the Sport.
ATV™-14 SPLASH.
Marquis® offers the 14 ft. / 427 cm series to include the ATV™-14 Splash model. The ATV™-14 Splash satisfies the water enthusiast who wants a less intense swim, stretch, soak or splash in the vessel. The Splash is equipped with a single swim tether point and a resistance rowing option to provide for versatile activity or relaxation in your lifestyle.
ATV™-14 SPORT.
ATV™-14 Sport steps it up to suit the swimmer seeking greater flow and greater resistance for rigorous workouts. The 3 two-speed pumps (160 gpm / 606 lpm, 480 gpm / 1817 lpm total pump flow rate) deliver swim workouts and strength and rehab conditioning exercises with low-impact for better health and wellness. Twin-end tether points offer more workout options with and against the flow in the Sport model.
PRODUCT SPECS
Seating Capacity
Dimensions
168.5" x 89.5" x 56"
Water Capacity
1725 gal
Total Jets
26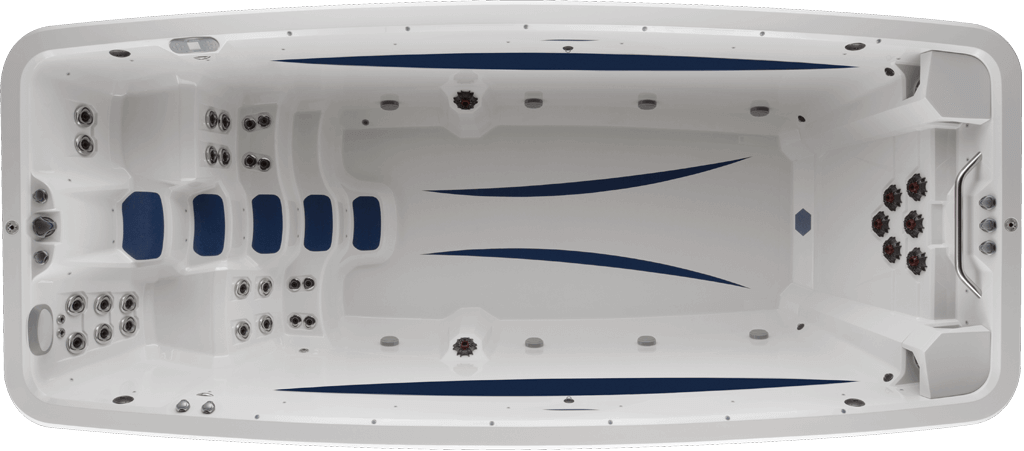 The ATV-17 is available in two configurations: The Sport and the Kona. The ATV™-17 Sport also provides expanded swim and workout versatility with an extra 3 ft. / 91.4 cm of length and 5 in. / 12.7 cm of depth (53 in. / 135 cm total water depth). Twin-end tether points offer more workout options with and against the flow in both Sport models.ATV™-17 Kona is the top performance 17 ft. / 518.2 cm vessel with 2 two-speed 360 gpm / 1,363 lpm swim end pumps (720 gpm / 2,726 lpm total pump flow).
PRODUCT SPECS
Seating Capacity
Dimensions
204" x 89.5" x 61"
Water Capacity
2,400 gal
Total Jets
26