Vinyl Liner Pool vs Fiberglass Pool - Which Is Better for You?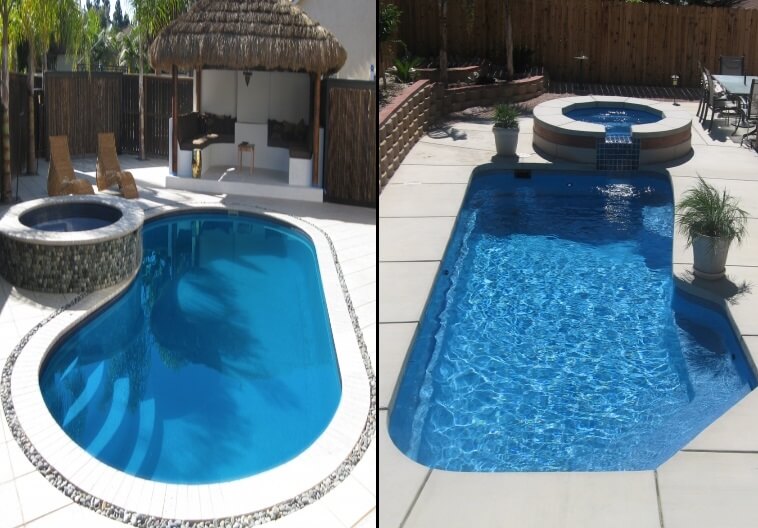 Vinyl liner and fiberglass pools are both fantastic inground pool options. But when it comes to comparing a vinyl liner pool vs fiberglass pool, there are some distinct differences between the two which may work better for your lifestyle than the other.
Is a Vinyl Liner Pool in Your Future?
The term "vinyl liner" refers to the interior vinyl waterproofing surface of these pools. The soft, non-porous liner is easy on the feet and it prohibits the growth of nasty algae (meaning less maintenance and chemical usage for you!). These pools can also be customized to be any shape and any depth.
An important consideration, however, is the fact that your vinyl liner will eventually need to be replaced. The structure will remain sound for over 35 years, but the liner itself will need replacing after 7 to 15 years. This can set you back $2000 to $5000 or more.
Is a Fiberglass Pool for You?
The one thing no one can deny is that fiberglass pools boast the lowest amount of maintenance of every type of pool. Unlike the fiberglass pools of the past, today's modern pools are just as aesthetically appealing to most as a concrete or gunite pool.
Another important consideration is the long-term cost. Fiberglass pools are incredibly durable and they stand the test of time well. Because there isn't a vinyl liner that needs to be replaced, they have a lower lifetime cost.
Fiberglass pools are also non-porous and easy to maintain when compared to a concrete pool. The disadvantages, however, are the initial price (fiberglass pools can cost up to $10,000 more than a vinyl liner pool) and there are limitations to their shape and depth. Fiberglass pools cannot be deeper than 8 feet and they cannot be wider than 16 feet due to transportation restrictions.
Discuss Your Options with a Pro!
RUSSO's Pools · Spas · Outdoor Living in the Chicago area is a pool builder and supplier who has the experience you need to decide which pool is best for you. Come on down to our store on North Avenue in Northlake to chat about vinyl liner pool vs fiberglass pool or give us a call at (708) 344-1166.
ABOUT THE COMPANY
RUSSO's Pools · Spas · Outdoor Living is a family-owned pool and hot tub business located in Northlake, Illinois. Starting off as a humble storefront in 1988, we are now a major pool superstore in the greater Chicago area.
Our company offers everything you need to create a fun and relaxing backyard retreat, from inground and above ground pools to hot tubs, spas and accessories, as well as grills, patio furniture, fire pits and other items to complete your backyard oasis.  We are an authorized Caldera Spa® and Doughboy® pool dealer, and with our Price Match Guarantee you can always be sure that you are getting the best price on your pool and spa chemicals.
We offer free shipping on all orders over $50 that are within a 35 mile radius of Northlake, IL and we make sure that all items are in stock so that you get what you need, when you need it.